Family Camp at Camp Pinnacle
Every year when parents come to pick up their campers at the end of a session, they see the pure joy and happiness radiating from their child—the sign of a successful camp experience. Knowing how much fun and growth come out of camp every summer, adults always ask, "When will we get the opportunity to become campers?!"
In 2020, Camp Pinnacle successfully hosted several family camp weekends, where families enjoyed instruction in a variety of activities on our 126 acres, as well as unstructured play and relaxation time on our private Wolfe Lake and 8 miles of hiking and mountain biking trails. Perhaps the biggest draw: Parents got to enjoy Chef Richard's world-famous cuisine!
Family camp will have limited enrollment, and families will be assigned their own cabins and dining hall tables. Social distancing will be encouraged, and there will be plenty of activities to keep even the most active families busy outdoors. For those who desire a less rigorous experience, options abound: You may choose to take a quiet walk on a wooded trail, or perhaps read a great book in our nature treehouse. Lifeguards will be provided to enable guests to enjoy the lake filled with fun toys.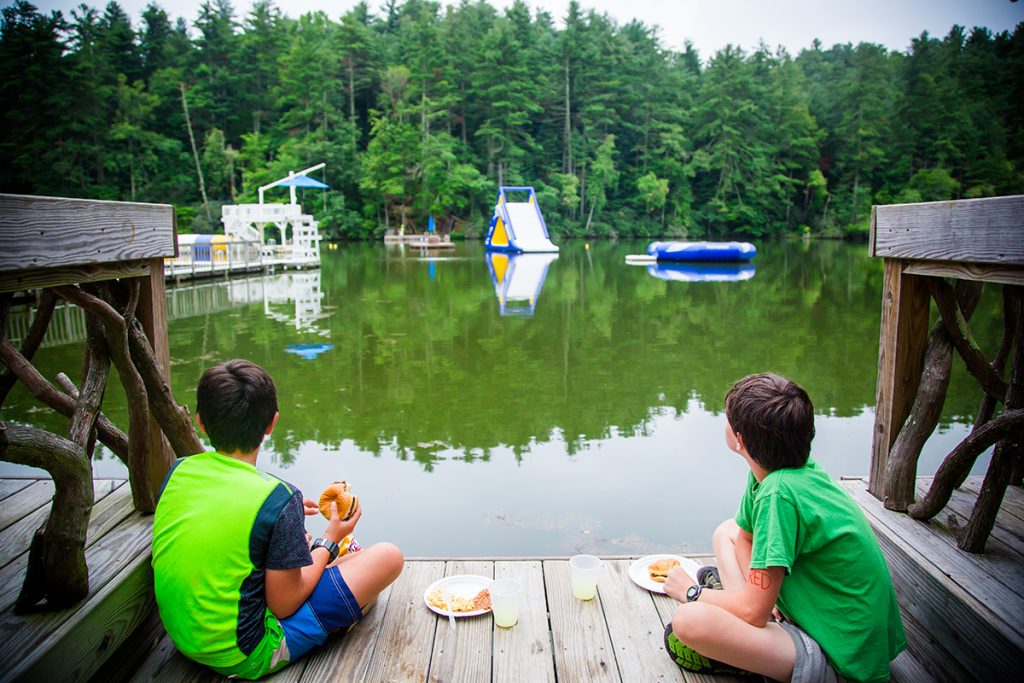 Basic family camp information
When will family camp be offered?
Sunday, August 15, 2021 – Wednesday, August 18, 2021
How much is family camp tuition?
Tuition is based on attendance by a family of four and will be $2,200 per family. This includes 10 meals, activity instruction, and equipment. For families larger than four, there is an additional charge of $250 per person. (For families smaller than four, the minimum charge is $2,200.)
What does family camp look like?
Family camp typically includes four days and three nights and begin with a 1 p.m. lunch on opening day. The four days will be a mix of structured activity offerings and free time to explore our 126-acre campus and surrounding area. We'll offer a variety of rotating activity instruction each day and an optional day trip into Pisgah National Forest or DuPont State Forest.
Families will check out by 1 p.m. on closing day after a morning of activities and brunch.
What activities will be offered?
We'll rotate through activities each morning and afternoon with professional instruction from Camp Pinnacle staff. These may include archery, hiking, mountain biking, kayaking, stand-up paddle boarding, arts and crafts, climbing in the Sky Park, rock climbing, canoeing, navigating the rescue mission, and yoga.
You may also play tennis, pickleball, mini golf, soccer, basketball, disc golf, and visit our game room. Our waterfront will be open most of the day to swim or paddle a myriad of small watercraft.
Each evening, there will be a group activity. Expect a campfire, talent show (your family may be asked to produce a skit), and a mountain beach party with cookout with our legendary BBQ.
How should I get to camp?
Our address is 1 Wolfe Lake Drive, Hendersonville, NC 28739. Once you've unloaded your personal items near your cabin, we'll direct you to park in our lower lot near the lake.
If you are flying to camp, the closest airports are either Asheville, NC (AVL, 30 minutes), or Greenville-Spartanburg, SC (GSP, 55 minutes). Charlotte, NC (CLT, 2 hours) will have more flight options but has a longer drive. We cannot provide airport transportation for family camp, so we recommend renting a car.
Is there internet access?
Yes. Camp Pinnacle is lucky to have WiFi access despite our rural location. That being said, bandwidth can become limited if too many people are online at once. Internet access is only available in and around the dining hall and office area.
Will family camp be unplugged?
We sincerely hope you'll join us in creating the opportunity for a wonderful vacation away from the distractions of technology. Please use your phones only in the area above the dining hall (or in your cabin) in order to keep the Camp Pinnacle experience unplugged and tech-free.
Can we bring our family pets?
Camp Pinnacle is a pet-free facility; you'll need to leave all pets at home.
Is smoking or vaping allowed at Camp Pinnacle?
Camp Pinnacle is strictly a tobacco-free property. No smoking, vaping, smokeless tobacco, or any other tobacco product is permitted on property for the duration of your stay. Marijuana and other illegal drugs are also strictly prohibited.
Can my family leave the property during family camp?
You are free to come and go as you please, but our on-camp standards also apply off-camp in that we expect families to be good health advocates in our community and maintain appropriate social distancing measures. Please let us know if you are leaving camp and missing a meal so we have accurate numbers for mealtimes and general safety. Children cannot be left at Camp Pinnacle without at least one parent or guardian present.
Are there any other camp policies?
We expect all "campers" to live up to the same five R's we ask of our campers: respect, responsibility, reaching out, reasonable risk, and resilience.
While we will be socially distanced, we hope family camp will be a wonderful opportunity to make new friends and enjoy the company of like-minded, adventurous families!
Our other normal camp rules and policies prohibiting weapons, drug paraphernalia, smoking, vaping, and pets will continue to be in place.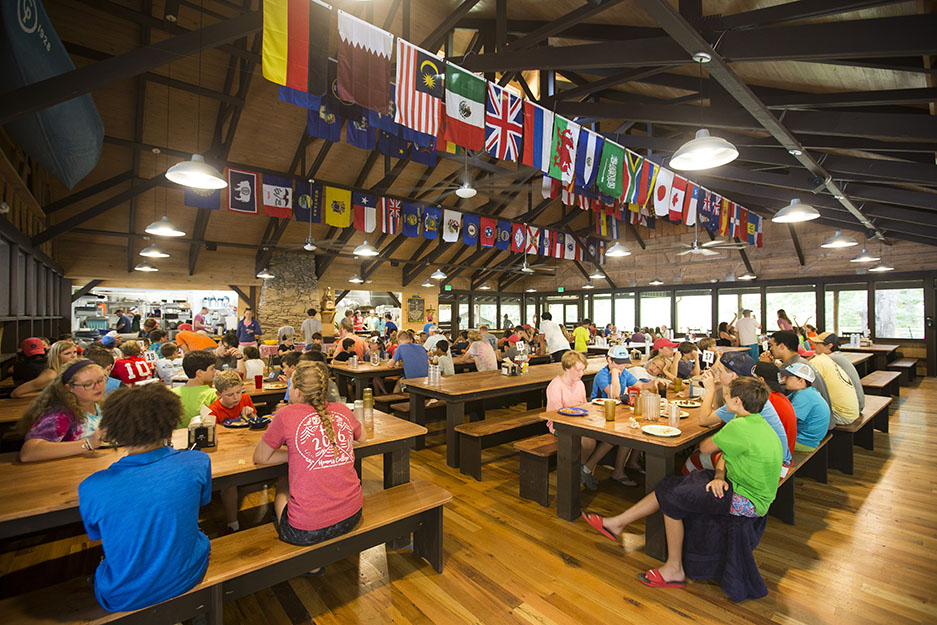 Registration information
When will registration open, and when will tuition be due?
Registration is now open; you may submit an online application here.
What is the cancellation policy?
Tuition is fully refundable if notice of cancellation is received 21 days or more prior to the start of family camp. Beyond 21 days, tuition will be fully refundable if we can fill your cancelled space.
How many people will be on camp?
We will limit enrollment to about 13 families or up to 70 participants, and we will process all registrations on a first-come, first-served basis. If you'd like to attend one of our family camps, submit your application as early as possible as we anticipate being full or close to full.
What are the arrival and departure times?
We'll be ready to welcome everyone with a 1 p.m. lunch on opening day. However, check-in will begin at 12 p.m. Please plan to arrive no later than 6:30 p.m. for dinner.
Departure time will be after brunch on closing day; we ask that you check out no later than 1 p.m.
What will we need to do for check-out?
On the day of your departure, please strip the beds and bring the sheets and blankets to the office porch. Please collect all trash and place trash bags in the receptacles nearest your cabin by 1 p.m.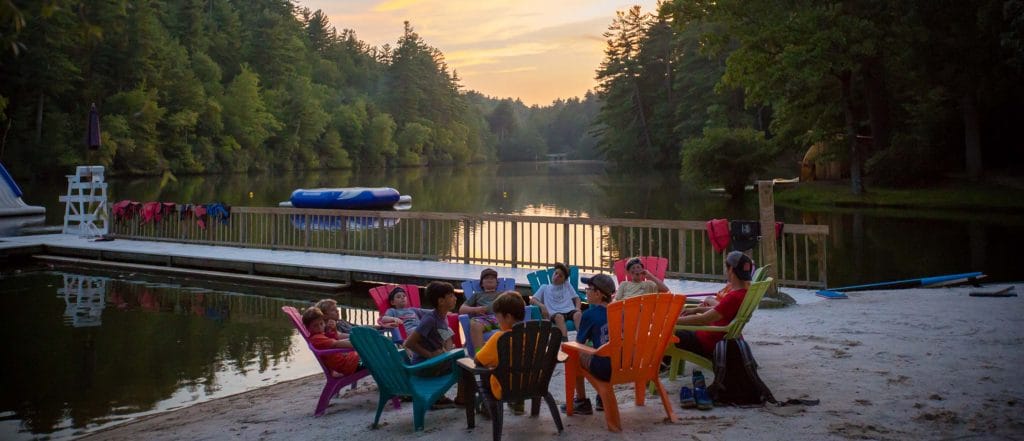 Accommodations information
What are the sleeping arrangements like?
You'll enjoy our rustic, open-air private cabin. If you're expecting the Ritz Carlton, you will be disappointed! That being said, few places are as beautiful, relaxing, or filled with as many fun activities as Camp Pinnacle.
Each family will be housed in their own cabin with a modern bathhouse a short walk away.
You will share the bathhouse with one other family. While a few cabins do have private bathrooms, we cannot guarantee cabin placement.
The cabins are screened in; they each have fans and electricity, but no air conditioning or heat. Every cabin has its own porch.
Most cabins have two single beds and four or five bunk beds. Camp mattresses are about 3.5 inches thick.
Some cabins have a tin roof, which can be loud in a rainstorm. While cabins are screened in, we cannot guarantee that they will be bug- or spider-free.
The trails leading up to the cabin areas cover varied terrain. Due to the close proximity of cabins, please respect quiet hours after 9:30 p.m. and before 7:30 a.m.
Camp Pinnacle will provide sheets and blankets, or you can bring your own bedding appropriate for twin beds. You will need to bring your own pillows, pillowcases, and towels.
How far are the cabins from parking lots?
Upon arrival, you may unload your belongings near your cabin; you will then park your car in a designated lot. Pack your belongings in luggage that you and your family can manage carrying some distance, such as duffel bags. Wheeled suitcases do not roll well on the trails to our cabins.
Cabins are accessible over varied terrain. Please let us know if any guests will need more accessible accommodations. As our camp facility has been in operation since 1928, we apologize that our cabins are not wheelchair accessible.
We will provide a detailed packing list for each enrolled family.
Do I need to bring my own outdoor gear?
We will provide all the outdoor equipment necessary to enjoy the activities offered, including bikes, paddleboards, climbing harnesses, etc. Camp Pinnacle's mountain bikes will only be available for use during guided rides. Helmets are necessary at all times while riding and climbing. You do not need to bring any additional equipment (with the exception of an approved PFD for any infant/child under 50 pounds). If you are an avid mountain biker, please bring your bike so you can ride when not on guided rides.
Can I camp out on campus?
We have several campsites in our forest, so your family can choose to sleep in our shelters, set up a tent, or even pull sleeping bags into our tipi for an evening. Campsites will be reserved on a first-come, first-served basis. We can provide sleeping pads, but you will need to provide your own sleeping bags and tents should you decide to camp out. You may only camp in designated campsites, and fires are only permitted in existing campfire rings. Chef Richard can provide the makings for s'mores; just let us know in advance.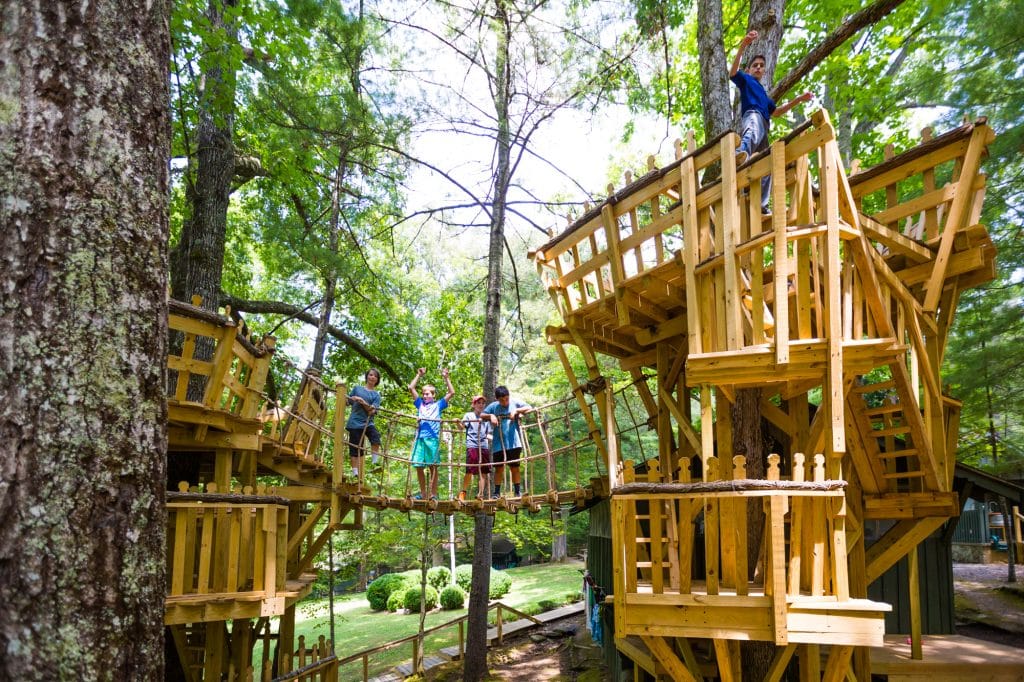 COVID-19 measures and expectations
What measures are you taking to reduce the spread of COVID-19?
Families (as well as our staff) will complete a pre-camp health screening form during the 10 days prior to family camp, which includes tracking temperatures each day. Upon arrival and before entering your cabin, families will be screened for virus symptoms. Additionally, families and staff will continue to record their temperature and symptoms daily while at camp.
The risk of possible transmission will be minimized due to participation in "family units." Most programming occurs in outdoor or open-air spaces, and we'll ask families to maintain social distance outside their family units. Hand-washing and/or hand sanitizer use is required before and after every activity where one touches equipment. Every family will have their own table in the dining room, and tables will be at least six feet apart. We will continue to follow the guidelines of our local and state government, the Henderson County Health Department, the American Camp Association, and the CDC.
Will we need to wear masks?
Please bring at least two washable cloth masks. North Carolina currently requires people to wear face coverings when you're in public and where social distancing is not possible. Masks are not required at Camp Pinnacle when you are exclusively with your family group, when eating or drinking, when swimming or using watercraft, or when exercising. Masks are also not required when outdoors, if you are able to maintain more than six feet of distance from people not in your family group.
There will be times when masks are required, such as when traveling in a Camp Pinnacle van. Meals and activities will be structured to allow for social distancing between families. There will be enough activities available for families to spread out around our 126-acre campus. It is your choice as to how you want to interact with other families, but our expectation is that each cabin unit will stay appropriately socially distanced from each other. Children under the age of 10 are not required to wear masks.
Masks will be worn by staff if social distancing cannot be maintained.
What defines a family unit?
Our intent is to house one household under one roof—this is your family unit or cohort. Should you have any questions about alternate arrangements, please give us a call at 855-378-1928.
What if someone shows COVID-19 symptoms while at camp?
During your stay, our staff will continue to record the temperatures and symptoms of families during camp. Anyone showing COVID-19 symptoms during camp will be asked to notify us, quarantine immediately, and then return home with your family.
Any potential or confirmed COVID-19 cases are required to be shared with Camp Pinnacle for local health department contact tracing.
Will there be medical staff available?
We will have a registered nurse on call throughout the week and can arrange a medical consultation if needed. Many of our staff are trained as wilderness first responders to offer basic first aid and over-the-counter medications as necessary.
Are counselors available to watch my children?
During family camp, we anticipate that families will participate in activities together. As such, parents must be responsible for their children at all times. Counselors will be in activity areas throughout the day to facilitate instruction but cannot be responsible for the supervision of children. Children over the age of 10, who have passed the swim test, may swim under the supervision of our lifeguards without a parent present but with parent permission. Babysitters may be arranged with notice at an additional cost.
How will activity equipment be sanitized between family use?
Our staff team will appropriately sanitize all equipment used in facilitated activities between families. In self-guided activities, there will be sanitizing gear located at each activity. Water fountains will be closed, but there are water-bottle filling stations around camp.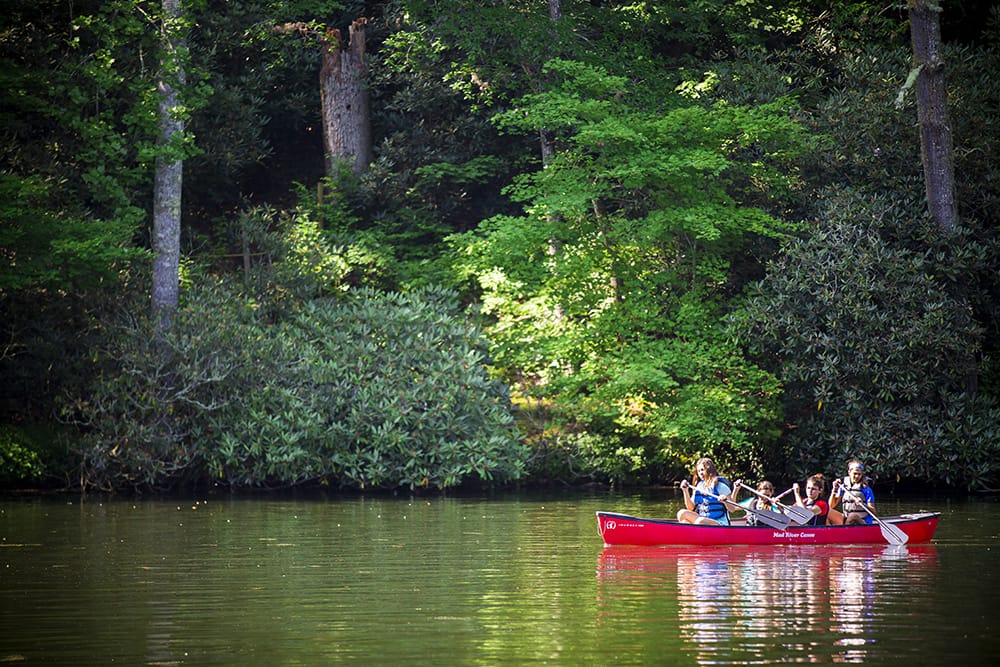 Food at Camp Pinnacle
How will meals be served?
Your family will be assigned the same table in the dining hall for the four days. You may choose to eat in the dining hall or take your meal outdoors to picnic tables scattered around camp.
Our staff will serve food through a buffet line; they will be wearing masks and gloves. There are unlimited "seconds" and a wide variety of foods.
What if someone has a dietary restriction or food allergy?
Please let us know two weeks in advance if you have any special dietary restrictions or any food allergies. Generally, our kitchen free of peanuts, tree nuts, latex, and sesame, and we can easily accommodate gluten-free and vegetarian diets. We are sorry that we cannot accommodate strict Kosher or vegan diets.
Can I bring my own food or alcoholic beverages?
Food is prohibited in cabins because it attracts animals. Any food you bring must be kept in your car. Fruit is always available between meals. Snacks are also provided on any off-camp trip.
If you choose to bring a personal cooler, you may store it in your cabin or vehicle. Please bring cans and plastic cups only—no glass for safety reasons.
If you are of legal drinking age, you may bring alcohol to consume it responsibly during your stay. Providing alcohol to any persons under 21 is strictly prohibited. You are restricted from consuming alcohol or being under the influence during participation in activities including swimming and the use of any watercraft.
To maintain a family atmosphere and the spirit of camp, we ask that no alcoholic beverages be consumed prior to 5 p.m. eastern time. Our preference is that you pour all beverages into a cup before consuming. Wine bottles are permitted in the dining hall for dinner only.