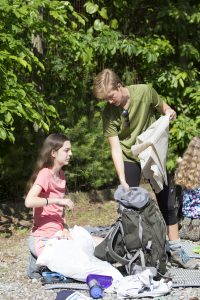 When I first heard of the job of "camp counselor" through a mutual connection, it was a tough sell. Upon hearing of the demands of the position, I immediately thought, shouldn't I be pursuing some sort of internship? Plus, I didn't want to give up my low-stress, friend-filled summer months or that week at the beach with family. As I now reflect upon the three summers that I worked at Camp Pinnacle, my expectations held true. I had to sacrifice my typical summer schedule, postpone that week at the beach with family, and reject two internship opportunities. However, what I didn't expect was all that I would gain in return: a second family and second home, various professional skills, and a network of lifelong friends and memories.
I started off my first summer on a rotation between Nantahala and Tuckasegee cabins. Here, I was responsible for the safety and guidance of girls ages 8–14 during two-week sessions of camping, swimming, hiking, games, and other outdoor pursuits. I worked with a different coworker for each session and learned to apply the camp philosophies known as the 5 R's and Great 8 Outcomes. As the beginning of August approached and the fourth and final session came to an end, the leadership team made it clear that I wasn't stuck in the end zone; if i was interested in returning, there was space for me to rise into other positions. I followed this trajectory for two additional summers, serving as the head of activities in 2016 and a trip leader in 2017. These roles allowed me to refine my management skills, assist the support team, post a daily blog, understand inventory processes, and plan, organize, and lead backpacking trips of 10–12 campers. In all aspects, I was supported by those around me and able to invest in my work.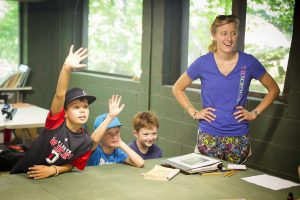 I recently relocated to Washington, D.C., to begin working as an admissions assistant and teacher at the School for Ethics and Global Leadership (SEGL). This new step into the professional world includes daily interaction with future and current leaders across the political spectrum. I continue to rely on skills that I fostered at Pinnacle: active listening, empowering students to take intellectual and personal risks, and sustaining environments of inclusivity. In addition, I am confident in who I am and how I want to live my life, and I would guess that your choice to become a camp counselor would generate a similar result.
It is my hope that you step out of your comfort zone and make your way to Hendersonville, NC. Not only will this job uniquely prepare you to meet your goals, it will be one of the better (and most fun) decisions of your life. It is with sincere gratitude that I reminisce on my time at Pinnacle and write these words.
Best,
Alyssa Skelly
Camp Pinnacle counselor and trip leader, 2015–2017
Adventure Treks instructor 2018–2019