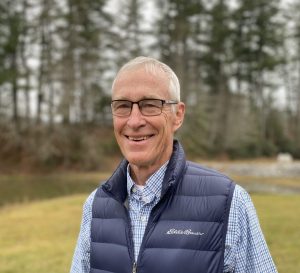 As summer draws closer, we are getting so excited about welcoming our campers on opening day! We want to reaffirm our commitment to our mission: to create the safest, most exciting, and most substantive summer camp experience through our personal attention to every camper, our caring, and our competence.
To help fulfill this mission, we are excited to announce that John Burton, a friend to many of us and a lifelong leader in the outdoor industry, has joined our team as senior advisor. John has an extensive camp background as a camper and counselor at Camp Mondamin. A Dartmouth graduate who also has an MBA from the University of North Carolina at Chapel Hill, he went on to become president of the Nantahala Outdoor Center, which remains one of the country's leading outdoor experience organizations and the provider of Pinnacle's rafting experience. He also owned and operated the Nantahala Village Resort for 15 years and John Burton Coaching, a leadership development, executive coaching, and team-health-building consulting firm.
"I am delighted to be returning to summer camping and to spend time with the Pinnacle kids and staff," John says. "I have said for decades that summer camp was the most important institution in my life, and I am thrilled at this opportunity to come full circle. Pinnacle is one of the most beautiful places I know, the facilities are first-rate, and the leadership team is amazing—dedicated first and foremost to providing safe, memorable experiences for the kids. I can't wait to meet the rest of the staff and to contribute what I can while learning from this new generation."
Starting out in a paddling program at age 11, John immersed himself in the competitive side of watersports for more than 15 years, eventually competing in five world championships and the 1972 Olympics in whitewater canoe slalom; he later coached the U.S. team. Reflecting on his career, John says, "I was so lucky to find the outdoor world and particularly whitewater paddling at such a young age. I had a fun learning environment and great mentors and teachers to guide me, and I have tried to live up to their example. Boats, lakes, and rivers seem to be in my DNA; the outdoor world as a classroom and stimulus for learning and self-discovery has shaped me for 60 years, and I can attest to the power of the experiences kids get at camp. Camps are too important to the soul of our nation to be allowed to fade in the face of a pandemic—I am so happy that Pinnacle and the other camps in the region are anticipating such a strong summer in 2021."
As a lifetime leader and operator in the outdoor industry based in western North Carolina, John will work with our outdoor team supervising risk management and adding a wealth of knowledge about the environments in which we operate. His deep and wide network in the outdoor world ensures we will continue to utilize the latest outdoor procedures and protocols. As a successful trainer, leader, and team builder, John will help lead our summer staff and advance our mission.
Through this depth of his experience, acquired wisdom, and familiarity with the power of the camp experience, John Burton is an excellent addition to our Camp Pinnacle leadership team. Perhaps just as important, he has already fallen in love with Camp Pinnacle.