A brand-new kitchen
Though we just finished our fall wedding season with 10 straight weekends of weddings, we are already looking ahead to excitement for next summer.
What will be most exciting is our brand-new kitchen! The old one, which has been around since the 1950s, is being completely gutted. We are adding space to both the dining room and kitchen and will be adding a new hood, sprinkler system, and appliances. From a food production standpoint, we are going from 2.5 stations to five, allowing us room to create even more interesting meals and the space to produce the quality of food we strive for. The expanded dining room will have a more efficient clean-up system, a new drink area, and room to spread out a bit.
We are adding a kitchen program for 16- and 17-year-olds who want to develop a great work ethic and learn culinary skills while still being part of the Camp Pinnacle community. We are renovating another cabin so this kitchen team will have their own living space.
Pinnacle food philosophy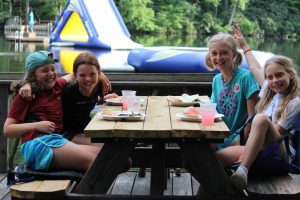 To be at their best, children need to feel safe and appreciated for who they are, and know they are wanted and needed. Camp Pinnacle is many kids' first time away from home and on their own. Our camp kitchen is the front line where kids can feel the warmth of home. That's why our kitchen is always ready with a warm cookie, fresh fruit, or other treat to reassure our campers that Pinnacle can be their second home, and that they are truly valued here.
Food plays into Camp Pinnacle's core values, which include the five R's. Trying new things is a reasonable risk. Reaching out is encouraging others in their food selections. Taking responsibility is making healthy food choices. Respect is the effort put into preparing the meal, having meaningful dining room conversations, and cleaning up afterwards. Finally, having resilience is moving on without a fuss if you don't like something.
"Fussy to foody"
We are on a mission to turn campers from "fussy to foodie."
One of the biggest questions we get from parents is how we get their children to eat so many different things—foods they'd never try at home. We often say that an increased level of activity makes children hungrier than normal, and when kids are hungry, they'll eat just about anything! But we're more proactive than that. Philosophically, we understand that the palate of children usually doesn't extend far beyond cheeseburgers, chicken nuggets, and pizza. While we will serve these comfort foods perhaps once a session, we always have other food on the table that expands the culinary boundaries of what a typical child might eat. We love variety, and we love vegetables! For every meal, campers find a wide variety of fun and healthy foods.
Locally sourced foods
All summer long, we'll offer foods like ripe South Carolina peaches, cool slabs of watermelon, or fresh farm butter on morning toast and homemade muffins. These are some of the sights and flavors of Camp Pinnacle. Chef Richard grew up with big gardens and grandparents who were dairy farmers. The flavors of summer to him were the produce they grew at home or got from their neighbors' farms just down the road.
Richard strives for our campers to have a similar food experience at Pinnacle. We support "farm to fork" dining and want to partner with our families in teaching children to source their food in an ethical and environmentally sound way. We believe it's important to develop healthy eating habits early in life and know where your food comes from. Not only is it better for the environment, but it tastes better too! When the corn on the cob you are eating was picked earlier that same day, you can truly taste the difference. More than 80 percent of the produce we use at camp is locally grown—most grows within 50 miles.
Homemade at Pinnacle
Nothing is more local than our own kitchen. As fruit and berries come into season, we turn them into our very own homemade jam! It seems everyone has a favorite. Richard's favorites are the blackberry jam and apple butter.
For many years, Richard has sought barbecue sauce without corn syrup and other chemicals, but it was difficult, so we decided that we should make our own sauce! We make five flavors of our own corn-syrup-free BBQ sauce: regular BBQ, spicy BBQ, honey BBQ, Carolina gold, and east Carolina gold.
We also make our own cakes and pies, pizzas, and muffins. We try to avoid cans and frozen foods whenever we can. For 2020, look for the Pinnacle label to let you know what is made right here at camp!
Controlling food waste
Table scraps for 270 campers plus counselors and staff in every session can add up to a huge amount of waste.  In a world facing food shortages, this doesn't feel right. We encourage everyone to take only as much as they want and to eat as much as you take, but still we end up with scraps. Last year, we partnered with a local organic pig farmer who comes out every other day to haul away our food waste to reuse as food for his pigs.
It's worth the effort
Many have asked us, "Are you putting too much on your kitchen and staff?" Our answer is no, it is not too much trouble. Sure, running the CP kitchen is a lot of work, but this camp community is worth it. And we are living out what we believe!  Every summer we challenge our campers to be their best selves. The food service team also accepts this challenge and with the help of our great camp community always works hard to be the best we can be.