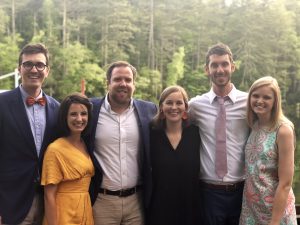 Well, friends, we have both good news and bittersweet news to share… After two amazing summers, our assistant director Walker Hendry has decided to move on from Camp Pinnacle. He has been a wonderful addition to our camp family, and we will miss him dearly. His endless energy and goofy personality have been a source of constant comfort to campers and counselors. In addition to the unmatched talent and dedication he brought to camp, we will mostly miss Walker's dance moves, Mr. Clean impersonation, and love of all things disc golf.
Walker has been a fearless leader and role model for campers, staff, and our director team. He and his wife, Sara Jane, will be moving to Atlanta to be closer to their families, and we know they'll be incredibly successful in their next venture as Walker transitions from camp to helping grow a small coffee roasting company.
Walker will always be a part of the Camp Pinnacle family. Don't worry—he still plans to visit during the summer to see his new disc golf course in action!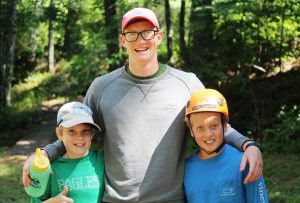 With that said, we are excited to welcome our new assistant director, Josh Hall! You may already recognize him as this will be his fourth summer with us (last summer, he was our beloved head of boys' camp). Josh is from Newcastle in northwest England and is excited to make the move across the pond to join our year-round team. He has recently traveled the world visiting friends he has met through his experiences at Camp Pinnacle, making stops all across the U.S., Australia, and throughout Europe. He enjoys playing football (aka soccer), spending time outdoors, and staying fit. He is a great role model and friend to our campers, and his ability to connect with kids and lead and empower staff make him an ideal candidate to be our next assistant director.
We are beyond excited to officially welcome Josh back to western North Carolina next month. We cannot wait for campers, staff, and families to see him in his new role this summer!