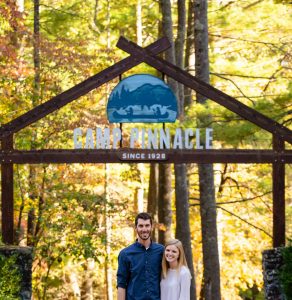 Whether someone new joins the Camp Pinnacle team or moves on to new adventures, it's a big deal. Our camp community is family! So it feels bittersweet to share that Emory and Cara have decided to say goodbye to Pinnacle. In October, they moved to Michigan to be closer to family, and we know they'll be incredibly successful in their new roles. We are so excited for them and their new adventure ahead, though of course we'll miss them dearly.
Emory's love for summer camp began long before he came aboard as the program director at Pinnacle in 2017, and his years with us have left a lasting impact on not only our activity programming, but also on our campers' and counselors' lives. His calm demeanor and goofy, fun personality were a constant source of joy for the Pinnacle community. We'll miss Emory's Lakeside cartwheels, dinner fork announcements, and contagious love for kayaking.
Cara's first year at Camp Pinnacle was in 2015 as a cabin counselor. She loved it so much that she decided to stick around, later joining our team as an intern before being promoted to our year-round office administrator. Her attention to detail and expert organizational skills were a tremendous help to Camp Pinnacle, both during the year and when camp was in session. You can thank Cara for helping camp run so smoothly! Even though she's said farewell to Pinnacle, she hasn't departed the camp world entirely and has accepted a position with Camptivities, an online camp scheduling software.
Cara and Emory will always be part of the Camp Pinnacle family, and we cannot wait to celebrate the two of them at their wedding next year!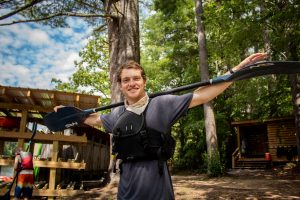 And now onto the happier news: We are thrilled to welcome Eric Lenhart and Abi Fuesler to the year-round Camp Pinnacle team! Eric is our new program director, and Abi is our new office administrator.
Many of you will be excited to see Eric's familiar face at camp this summer, as he's been a Pinnacle trip leader since 2019. He grew up in Asheville, NC, and knows the Blue Ridge Mountains like the back of his hand. Eric graduated from Brevard College with a bachelor's degree in wilderness leadership and experiential education. In 2020, Eric was Pinnacle's head trip leader and also worked as an instructor for Adventure Treks' fall Leadership Adventure Semester gap program. Eric spends his free time exploring the mountains of western NC while mountain biking, whitewater kayaking, rock climbing, and skiing.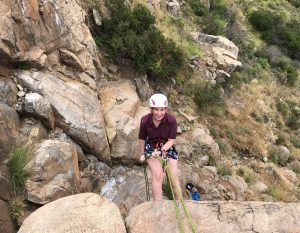 Abi is also rooted in the camp world, having fell in love with camp at 9 years old. This passion for camp and the outdoors led her to attain a bachelor's degree in wilderness leadership and experiential education at Brevard College, during which she spent her summers working for different camps in California. (Yes, Abi and Eric did go to school together!) While at BC, Abi was involved in student government and the Outing Club; she also served as a committee member for the Institute of Women in Leadership. She spends her outdoor time mountain or gravel biking, rock climbing, trail running, canoeing, hiking, and bikepacking, and she also loves crocheting, listening to podcasts, and doing puzzles!
We can't wait for you all to meet Eric and Abi this summer; we are so excited to have them on board!